Join us on our horseback adventure, riding through the beautiful Clearfork Valley. Your gentle horse will carry you through undisturbed forest trails while our friendly guide shares the horseman's knowledge and secrets of the wild. We offer iconic horseback riding in Ohio with easy access off I-71 just one hour north of Columbus and one hour south of Cleveland.
We specialize in family friendly horseback rides that are perfect for beginners and experienced riders alike. Timber Valley Ranch is home to our personal horses, performance horses and our amazing trail horses. Our guides are always friendly and courteous and love to share their knowledge about horses. Our horses are gentle, well-mannered and always well cared for. Our trails provide an excellent escape to the wilderness and offer an excellent opportunity to see wildlife. We offer the best horseback rides in the mid-Ohio area!
*Tax not included
If you are planning a weekend getaway, we have airBnB options within minutes to our ranch!
A birthday party trail ride is the perfect gift for any horse-crazy boy or girl! At Timber Valley Trail Rides, kids are always welcome! We love to host birthday parties for children 4 years old and up. Not only are our rides family friendly and fun, we also go out of our way to make the birthday party easy for you! We offer a unique way to celebrate your kiddos special day.
Looking for a birthday venue that is easy to book and located outside? No need to book a complicated party in the city! Bring your kiddo and some friends out to our ranch for a guided horseback ride through the beautiful Clearfork valley. Our great location makes it easy to set up a birthday bash.
---
COST:
$65/person +tax
The 1 hour ride is perfect for kids 8 through 12 years old. This is a full hour in the saddle! Plenty of time for younger kids that maybe have never ridden before. 4 person max at this time
$50/ person + tax
This is for the younger buckaroos ages 4-8. This is a 1 hour experience with up to 4 taking turns being lead and learning the basics of horseback riding in an enclosed arena.
Certified equestrian helmets and required for all kids 4-12yrs old and will be provided for you at no additional cost. Every ride is guided by our friendly and professional staff that will strive to make your birthday boy or girl feel special on their trail ride.
---
JUST A FEW THINGS TO NOTE:
All kiddos will need the assumption of risk form signed by a legal parent or guardian in order to participate on the ride. You can print that form by clicking the button below

A minimum of one adult must be present on the ride.

Kids 4-12yrs old are required to wear helmets. Kids older than twelve must have the helmet waiver signed by their legal parent or guardian.

All cancellations or reservation changes must be made by 5pm the day before your ride. After that time, you will be charged for the amount of spots that you saved.
We are located just outside the town of Bellville. Once past the first archway, follow the drive to the right through the 2nd archway and up to the barn

If you are spending time in our area, here is the link to our airbnb for over night stays.

Kids MUST be EIGHT years old to do our trail rides. We do not allow any double riding for safety reasons.

Our weight limit is 230lb. This is to better protect our guests and our horses. Anyone over these limits would be putting themselves and the horses at risk.

All cancellations and reservations changes must be made by 5pm the day before your ride. After that time, you will be charged for the amount of spots that you saved.

If you are bringing a minor child without a legal parent or guardian, you can print our riding waivers here! Otherwise, you can sign all waivers when you arrive!
4848 State Route 13 Bellville, OH 44813
Meet our Wrangler and guide Anthony Tackett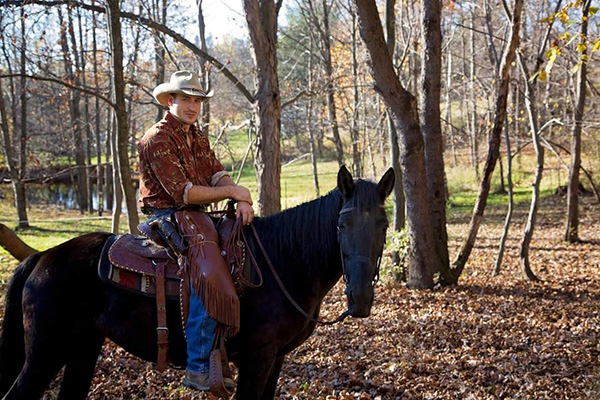 Anthony grew up riding horses every chance he got on his family's farm in the hills of West Virginia. Riding only bareback, he never even sat in a saddle until the age of 19. As he puts it, "we would ride up the mountains hugging the horses neck, then go down, reaching back holding on to the tail." Anthony's current mount was a wild Mustang mare that he adopted in 2007, which he named Cherokee. Having never been touched by a human, he took his time in gaining her trust and training her, forming a bond that is still strong today. They have ridden together in the forests of Ohio, in the Cascade mountains of Washington state, and even through our little town, riding her alongside the drive through of the local Ice Cream shop. Anthony had two sons following in his boot steps, learning to ride since before they could walk. While living in Washington State, Anthony furthered his experience training on a ranch and puts his expertise to work at Timber Valley Ranch. He is also currently the operations manager and head hunting guide for Ohio Guide Outfitters, whose home base is Timber Valley Ranch.